13 Reasons You Should NEVER do a Patient Orientation Class…
A lot of Chiropractors ask me if, in this day and age of social media, they should be doing a Patient Orientation Class (or advanced spinal class). Well, here are 13 reasons why I tell them they should NOT…
…because a belief changing and inspirational Patient Orientation Class (POC) most likely will:
#1 Increase your PVA: Educated patients have a tendency to stay longer in care. During your POC you have the opportunity to debunk some common myths about Chiropractic care and health in general.
#2 Get you more patient referrals: It is easier to build a case for a NEW patient to refer a family member or loved one to get checked once he is fully educated about the benefits of Chiropractic care AND inspired by your class.
#3 Get you speaking leads: The vast majority of Chiropractors want to get more outside talks. What if your POC had an elegant call to action to get speaking leads? What if you had a speaker flyer (with your speaker website information) promoting your corporate lectures that your patients could take home? Most importantly, what if your patients discover that not only are you a phenomenal doctor but a powerful and inspirational speaker?
#4 Create a culture of education in your office: Your office culture is defined by your shared values, attitudes, goals and habits that you and your team have. Obviously, you cannot create an office culture only by delivering your POC (it takes more than that), but what if education becomes one of your CORE values? What if education becomes one of your main drivers to both patient acquisition and retention? What if your patients expect to come to different classes during their care because they want to keep improving? What would happen to your office if you were to create a "culture of education" from the beginning?
#5 Create authentic content for your social media: For every Patient Orient Class you do, you have the opportunity to promote your talk:
Before the class: Create a written/or video post telling how pumped you are about your upcoming class (and do a call to action inviting people to come.
During the class: Have your assistant to take a picture of you speaking and post it on your social media channels (you can also do a quick Facebook Live highlighting part of your class)
After the class: You can post a picture with one of the attendees, a testimonial from your lecture or a thank you note for the people who made it to your program.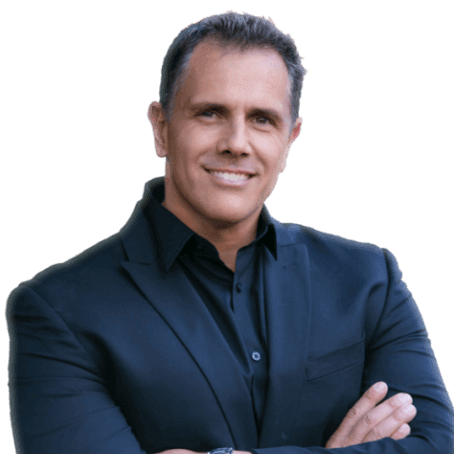 Checkout our 3-day Persuasive Speaking
Intensive for Chiropractors
#6 Increase the sense of mission within your team: "The speed of the leader determines the rate of the pack" – Ralph Waldo Emerson. When your team members experience your class and are moved (again) by your message, they will be even MORE on fire to help you get your message to the community. I understand that they may not be watching your class every week, but just knowing that you are consistently delivering that masterpiece will remind them about the mission that you are on and the importance of patient education.
#7 Improve your overall communication competence: One of the biggest benefits of consistently delivering talks is that you will improve all aspects of your communication: confidence, storytelling, engagement, body language, structure and more. All these skills that you develop and improve during your talks are 100% transferrable to your one on one communication (screenings, report of findings, etc.).
#8 Create credibility assets for your speaking page: Do you have a speaker's page to promote your outside talks? The vast majority of chiros that I talk to don't have one, and that is one of the reasons they do not get outside talks consistently. You must have good marketing material to get speaking gigs. What kind of information do you need? For starters, you will need: a) pictures of you speaking b) testimonials from your audience members about your lectures c) a short clip of you speaking d) Pictures of you and your audience e) your BIO f) the description of your talks g) a video introduction of your page. When you have a powerful POC, you can hire a local videographer and record one of your classes. You will be able to get most of your credibility assets from just ONE talk, how cool is that?
#9 Remove your communication subluxations: According to Harvard professor of psychology, Ellen J. Langer, " a good deal of our communication behavior is mindless, as opposed to mindful, meaning we don't pay much attention to how we communicate." I remember one incident where one of my clients recorded his POC class and send it to me so I could critique and improve. It was around 40 minutes or so. During that time, the doctor touched his nose 32 (thirty-two) times!!!! If you study body language, you will discover that touching the nose obsessively could mean that the speaker is hiding the truth, lying or communicating some type of disagreement. Once he became aware of his "communication subluxation", he was able to stop it immediately. Recording your POC and having a professional critique it will pay dividends for you. If you are interested, we offer this service. Just email me at Roberto@chirospeaking.com.
#10 Increase your personal fulfillment: In the article "What do we get out of influencing others?", researchers pointed that ethically persuading others satisfies 5 basics needs:
Accuracy: winning someone over validates one's beliefs about being right.
Belonging: influencing others is a way to establish new relationships and social connections.
Self-worth: getting a yes with integrity and impacting someone else's life will increase your value and self-worth (consciously or unconsciously).
Control: Human beings have the need for control (or perceived control), they want to be in charge. When you influence an outcome, you meet that need.
Meaning: When you change someone's life with Chiropractic care you get an extra dose of purpose and meaning, and that is a beautiful thing.
#11 Increases your credibility: Professor of Argumentation and Debate Daniel O'Keefe defines credibility as "judgments made by a perceiver (message recipient) concerning the believability of a communicator". Plain and simple, the more credibility you have, the more your audience will believe you. Here is a hypothetical question… What would happen to your practice if everybody you talked to believed in you and in your message 100%? Imagine a world where you just tell them how Chiropractic works and they say "Ok Doc, I believe you, let's do, I am in". That would change everything, right? I know this scenario may not be possible all the time, but what is possible right now is for you to increase your credibility. So how do you do that? According to persuasion research, the primary dimensions of credibility are expertise, trustworthiness and goodwill. Your patients want to know: Is my doctor an expert on this subject? Can I trust my doctor? Does my doctor care about me and my goals? While you can answer these questions in a one on one consultation, a POC offers you an opportunity to go deeper with your patients. During your class you will be able to further communicate your knowledge, your mission and your commitment to help them and their loved ones to live their best lives possible.
#12 Increase your status: Have you ever wondered why so many internet marketing coaches have their speaking picture as their social media profiles? It is the same reason so many practice management coaches have their speaking picture as their social media profiles: Status is the position or rank in relation to others. Let's say you had the opportunity to go to lunch with a person to talk about your corporate wellness program. Which person would you chose? A) the CEO of the XYZ company in town, who is in charge of 5,000 employees or B) the front desk reception person of the same XYZ company? Why did you choose A? Because the CEO has a higher status (I am NOT saying he or she is a better person), and he or she can open the doors for you. Public Speakers have a "built-in" status because there are the ones in front of the room (alone) speaking to an audience (of many). Doing a POC consistently will increase your status in the eyes of your patients, from "doctor" to "doctor and speaker".
#13 Protect your future: I have been SO blessed to be around purpose-driven Chiropractors, who are on a mission to make their communities healthier. When I ask them about their 5, 10 and 15 year goals they usually tell me something along these lines:
"You know Roberto, I would love to be involved in my office somehow, adjust some of my wellness patients and have a couple of associates doing most of the work. Ideally, I would love to be speaking and teaching more. Maybe doing more talks around the community or even speaking to my fellow Chiropractors and chiro students. I want to help my profession."
Have you heard something along these lines?
Is that you?
If you have a similar vision, then NOW is the best time to strengthen that "speaking muscle", NOT 10 years from now.
Delivering a POC consistently can help you develop the communication superpowers of the best speakers in the world.
As a bonus, once you develop your ultimate POC, you can have your associates deliver that transformational experience for you!
It is a win-win-win (your patients win, your associates win and you win).
As I mentioned in the title of this article, here are the 13 Reasons You Should NEVER do Patient Orientation Class…
I hope that you notice the … (dots)
…and here is the rest of the title
…Unless you want to dramatically increase patient attraction  and retention and experience more fulfillment in your career!
If you are ready to create or improve your Patient Orientation class (or any other internal or external talk), I have 3 ways I can help you.  It really depends on your learning preference.
The first is through immersion.  I have a 3-day immersion weekend where I cover Soup to Nuts on public speaking for chiropractors:  Structure, Storytelling, Delivery and how to overcome fear of public speaking.  You can find more information about our world-renowned Influencing From The Front For Chiros program here
The second way is through distance learning.  I created an online resource where you can find a training course called "the ultimate Patient Orientation Class"… plus 30+ trainings on public speaking and influence.  You can work at your pace and watch the content as much as you like. For more information, you can visit www.chirospeakingclub.com
The third way is with me 1-on-1… schedule a meeting here to see if we are right for each other.
Speak Soon,
Roberto Monaco
How do you prefer to learn?
We have an option that's just right for you
1 on 1
Private coaching for those who prefer to have personalized attention.
Seminar
Group seminars for those who prefer an immersion experience...
Online
Online training for those who prefer to work at their own pace.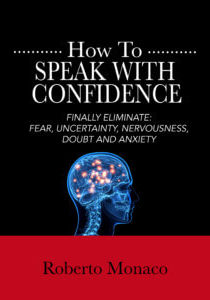 Free ebook shows you how to speak with confidence.  Get rid of completely or reduce SIGNIFICANTLY your fear of speaking in front of people.