How to avoid losing sales
Last Sunday I saw a speaker deliver an outstanding message from the stage that really moved me. The content was spot on, illustrated by powerful storytelling and delivered with charisma and authenticity.
At the end of his presentation, he mentioned his offer: a 12-week course that was available in the back of the room.
Without hesitation I went to the table to buy it. Even without knowing the price, I already had made the emotional decision to buy his course.
When people present an offer, the audience uses their schemas to make a specific decision that will lead to yes or no. A schema is "a mental framework that helps individuals to organize knowledge and experiences, as well as provide a platform from which to interpret and process new information."
Another way to think about schemas is a "mental checklist" that your audience has. In order to influence them, you have to "check all the boxes".
Obviously there are different kinds of decision-making schemas because we have face different selling contexts (situation, price, products, services, etc).
In this video I want to share with you the 7-questions that form a basic decision-making schema (mental checklist) that you can use to prepare your next presentation. If you want to avoid losing sales, your message has to address at least these 7 questions (you may have to answer more questions depending on your sales context)
Here is the video:
Roberto
PS: To be an effective presenter you have to understand your audience decision-making process and tailor your message to it. That is one of the many things we discuss that our Influencing From The Front event
How do you prefer to learn?
We have an option that's just right for you
1 on 1
Private coaching for those who prefer to have personalized attention.
Seminar
Group seminars for those who prefer an immersion experience...
Online
Online training for those who prefer to work at their own pace.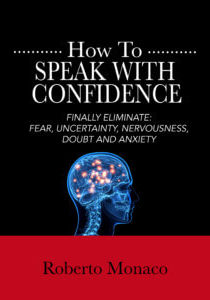 Free ebook shows you how to speak with confidence.  Get rid of completely or reduce SIGNIFICANTLY your fear of speaking in front of people.