Why natural speakers are average presenters
When you do ONE thing intensively for 20 years you learn patterns. 
I started speaking and training in 2002 and I have been focused 100% on the philosophy, art and science of group communication (public speaking, presentation skills, storytelling). 
One of the patterns that I discovered is that most natural speakers are average presenters.
I know, it doesn't make sense, because a "natural speaker" is that person who is never afraid to speak, always feels comfortable in social settings and, for the most part, enjoys the spotlight. 
Naturally, public speaking came naturally to them. They were the ones who raised the hand when the opportunity presented itself. And because of it, they never stopped presenting, they never stopped speaking. They got the invitation and they said "yes" to it. Some of them even got career opportunities due to their ability to speak (repetition alone makes anyone better).
So what is the problem Roberto? That is a great thing…
As the saying goes, sometimes your greatest strength can also be your greatest weakness.
Because they had this "natural talent to speak" they never developed advanced skills.  Because they are "natural", they never had to become a student of speaking and develop the "habits" that great communicators, with less natural talent, have. 
They do not realize how deep the field of persuasive communication is. They never fully studied rhetoric, design, communication science, social influence, heuristic, performing arts, and more. Ego or their belief that they are already "good enough" stops them from going to the next level. 
So while they improved over time due to repetition, they never fully maximize their potential as a communicator. They may be great speakers compared to the average person who has given very few talks, but they are far away from the best. 
Every seminar that I go to speak at I see this pattern. I see seasoned speakers doing their thing, but I can't help to think  "…this person could be way more effective if he/she just did that…"
I personally see myself as a student first. I have studied my field for 20 years and I feel like I have tapped into less than 10% of my personal potential as a communicator. I have a long way to go, I know that. That actually excites me tremendously. 
I know that whatever I want to create in my life (anything), it will depend on my ability to communicate, to myself and to others. That is why I keep pressing on. 
If this message resonates with you, come and join for our next Influencing From The Front class, August 12 – 14th, 2022 
Roberto 


How do you prefer to learn?
We have an option that's just right for you
1 on 1
Private coaching for those who prefer to have personalized attention.
Seminar
Group seminars for those who prefer an immersion experience...
Online
Online training for those who prefer to work at their own pace.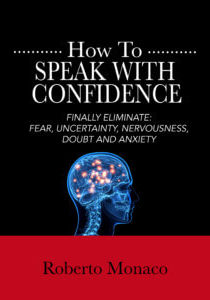 Free ebook shows you how to speak with confidence.  Get rid of completely or reduce SIGNIFICANTLY your fear of speaking in front of people.