The Phantom of the Opera: A formula for chiropractic Success
The Phantom of the Opera is a musical with music by Andrew Lloyd Webber and lyrics by Charles Hart.
The story is based on the novel of the same name by Gaston Leroux. It tells the story of a deformed man who hides behind the mask of a phantom in the Paris Opera House.
He falls in love with an opera singer, Christine Daaé, and becomes obsessed with her.
The musical opened in London's West End in 1986, and on Broadway in 1988. It has since been staged in numerous productions around the world.
The Phantom of the Opera is the longest-running musical in Broadway history, having played more than 10,000 performances.
It is also the highest-grossing musical of all time, taking in more than $5.6 billion at the box office.
Each performance of The Phantom of the Opera lasts approximately 2 hours and 30 minutes, including a 20-minute intermission.
So if you were to do the math that would equate to 10,000 performances x 2.5 hours, which equals 25,000 hours of the show being performed.
In those 25,000 hours, $5.6 billion dollars have been grossed meaning approximately $4,500,000 an hour has been made.
Not too shabby for a work that was produced one time, and then used over and over again.
This is the power of having one powerful, core, signature talk.
Many multi-million dollar businesses have been built with one just one core talk.
For example, Zig Ziglar's "See You at the Top" has been responsible for selling millions of dollars of products and services and has helped people change their lives.
It's also been the bedrock upon which he has built an empire.
The same can be said for Tony Robbins and his core talk, "Unleash the Power Within." It's been around for more than 30 years.
When I worked for the Anthony Robbins Organization, we all used the same presentation to sell the event. Virtually word for word.
In chiropractor terms, your one core talk could be a DWD (dinner with the doctor), an outside health lecture or a POC (patient orientation class), ect…
Many chiropractors have built multimillion-dollar businesses with one powerful, core talk that they use over and over again. 
My good friend, Dane Danohue, has grown his practice, his tranining business and the practices of many of his client's given one core presentation — "8 weeks to wellness"…
Does it take alot of time and effort to develop? 
Yes it does. 
Is it worth it? You betcha.
But… 
How much time and money do you waste on marketing that doesn't work?
How much time does it take to constantly have to create new marketing ideas?
You could easily spend hours, days, weeks or even months coming up with new ideas, testing them and then tweaking them.
Or you could just focus on perfecting your one core talk and using that as the foundation for everything you do to market your practice.
It's your choice.
You're one presentation away from the practice of your dreams. 
If you'd like to drastically reduce your learning curve, reach out and let's chat.
Or better yet, join me at my Influencing from the front seminar. Where you will not only learn how to create your one talk, but you'll get the chance to deliver it in front of a group and get feedback.
I'll leave you with one of my favorite quotes:
"The time to begin most things is now."
-Tony Robbins
What are you waiting for?
Roberto
How do you prefer to learn?
We have an option that's just right for you
1 on 1
Private coaching for those who prefer to have personalized attention.
Seminar
Group seminars for those who prefer an immersion experience...
Online
Online training for those who prefer to work at their own pace.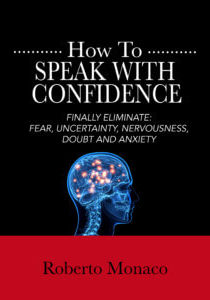 Free ebook shows you how to speak with confidence.  Get rid of completely or reduce SIGNIFICANTLY your fear of speaking in front of people.