[Interview] Dr. Patrick Gentempo Explains his Philosophy about Philosophy…
Podcast: Play in new window | Download
What is your philosophy about philosophy?
Philosophy runs your life, your business and your destiny.
That is not an overstatement, that is the truth once you realize that every person in the world has a personal philosophy that is shaping his or her actions, feelings and future.
Philosophy, defined by Merriam Webster dictionary as 'the study of ideas about knowledge, truth, the nature and meaning of life" can be your best friend or your worse enemy.
In this video, Dr. Patrick Gentempo, wildly-successful entrepreneur, speaker and leader in the wellness industry, shares his thoughts on Philosophy and why it is the MOST important aspect of your business and your life.
PS: Discover our personal philosophy on presenting and influence here.
ABOUT DR. PATRICK GENTEMPO
Dr. Patrick Gentempo is the founder and CEO of Action Potential Holdings, Inc. He is often referred to as the "Philosopher-Entrepreneur". He is a well-known and respected star in the world of health, wellness and business.
While practicing as a chiropractor, he co-developed innovative diagnostic technologies, received patents and built a considerable international business of which he was the CEO for over 20 years. Leveraging his 'applied philosophy' approach, he has successfully launched over a dozen companies.


Dr. Gentempo is passionate about the use of philosophy as a practical tool for success and achievement. 

His unique perspectives have captured worldwide attention. His TEDx talk, "Unleashing the Power of Philosophy", received spirited accolades. His views have been published by Forbes and other popular publications.
Entrepreneurs and business leaders from around the world have been captivated by his highly celebrated keynote presentations and numerous interviews on popular programs. 


As Dr. Gentempo likes to say, "Everyone has a philosophy, the only question is whether they know it or not!"
How do you prefer to learn?
We have an option that's just right for you
1 on 1
Private coaching for those who prefer to have personalized attention.
Seminar
Group seminars for those who prefer an immersion experience...
Online
Online training for those who prefer to work at their own pace.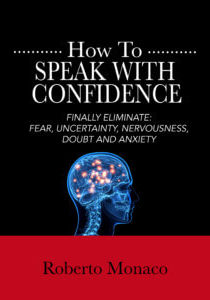 Free ebook shows you how to speak with confidence.  Get rid of completely or reduce SIGNIFICANTLY your fear of speaking in front of people.